This feature is available if you have installed Zotero Connectors for Chrome, Safari, or Opera in addition to Zotero. See Installation.
One of Zotero's most convenient features is its ability to find bibliographic information on the web pages you visit. For example, when you are looking at the record for a book in an online library catalog, Zotero's save button will often change to the icon of a book (circled in red):

Chrome users: On supported pages, you can find the icon within the Chrome address bar, on the right-hand side.
Safari users: The icon is just to the left of the address bar, grouped with other Safari icons:

When you click this book icon, Zotero will save all of the bibliographic information about that book to your library, in a newly created "Book" item. On some web pages that list information about multiple items (e.g. a list of Google Scholar search results), Zotero will show a folder icon. Clicking this folder icon will open a window in which you can select the items that you want to save to your library: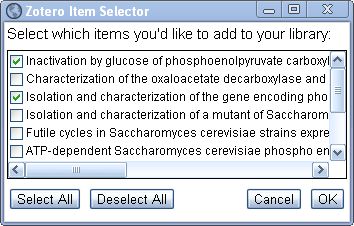 If you have selected a collection in the left-hand column of Zotero (that is, a collection is highlighted in the left column rather than "My Library"), items are saved into that collection.
Whether or not Zotero can recognize bibliographic information on a web page depends on the web page. Some websites use a standard way to provide Zotero with data (via embedded metadata). For other sites, Zotero relies on website-specific translators. Zotero works with most library catalogs, several popular websites such as Amazon.com and NYTimes.com, and many (gated) databases and websites of scientific publishers. Just look for icons in the toolbar or address bar of your browser (for more information, see our compatible websites list). By default, translator updates are automatically installed, independent of Zotero updates.